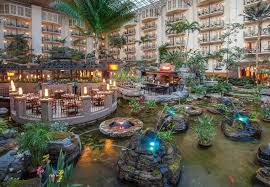 Gaylord Opryland Resort & Convention Center
Underneath a climate-controlled signature glass atriums, you'll discover nine acres of indoor gardens, cascading waterfalls and indoor river with a Delta flatboat.  Situated in the heart of Nashville, the upscale hotel allows you to hit all the high notes of Music City both in the area and under the roof.
---
Wildhorse Saloon
Kick up your boots and dance around Nashville's largest dance floor.  One of Nashville's most iconic destinations that offers dining and live entertainment.
---
General Jackson Showboat
While "rollin' down the river," you'll enjoy stunning views, a delicious meal freshly prepared and toe-tapping entertainment in the two-story Victorian Theater at the center of the boat.  The General Jackson Showboat is named after the first steamboat to operate on the Cumberland River in 1817 which was named after President Andrew Jackson, whose historic home—The Hermitage—is 15 minutes from the dock.
---
Andrew Jackson's Hermitage
View the grounds and explore Jackson's 1,000+ acres of beautiful scenery and historic architecture.  The plantation was owned by Andrew Jackson, the seventh President of the United States, from 1804 until his death at the Hermitage in 1845.
---
The Parthenon
The Parthenon stands proudly as the centerpiece of Centennial Park, Nashville's premier urban park. The re-creation of the 42-foot statue Athena is the focus of the Parthenon just as it was in ancient Greece. The building and the Athena statue are both full-scale replicas of the Athenian originals.
---
Historic RCA Studio B
Studio B is a popular cultural attraction and is one of the world's most famous recording facilities.  Elvis Presley and many other music icons made history here.
---
Country Music Hall of Fame and Museum
The Country Music Hall of Fame and Museum is the definitive home of American music, safeguarding more than 2.5 million priceless artifacts, including countless recordings and photographs, numerous stage costumes, musical instruments, and more.
---
Belle Meade Plantation
This site is dedicated to the preservation of Tennessee's Victorian architecture, history, and equestrian legacy. A century of the plantation's history is told through the stories of the Harding-Jackson Family.
---
Downtown Nashville
Most of the two- to five-story buildings date from 1870 to 1890 and served as warehouses and storefronts for goods shipped along the Cumberland River.  These are some of the best concentration of Victorian commercial facades in Nashville.